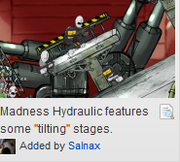 Too much space is wasted on the sides
Every other image has my stuffed hedgehog's face next to it.
We lost the Wikigrounds Tank
Too many useful tools, like Special Pages and History, are hidden
The helpful links to good articles we had on the left are largely gone
We lost the connection to the Tech Hub
Articles now take up less than half of my fairly typical screen
Standard Templates now hog half of the available area
Why do we need a permanent link to the Glee Wiki on top of each page?
It will be mandatory come November 3rd
Ad blocker interference detected!
Wikia is a free-to-use site that makes money from advertising. We have a modified experience for viewers using ad blockers

Wikia is not accessible if you've made further modifications. Remove the custom ad blocker rule(s) and the page will load as expected.