TehSlapHappy is a prominent NG BBS user, recently appointed Icon Moderator, founder of The Icon Mod Crew, and member of the rap duo CAPS consisting of himself and fellow BBS personality Twilight. In November 2010, he and Timmy swapped usernames, but they switched back on the 28th. However Timmy is occasionally still called TehSlapHappy.
TehSlapHappy is also a stand up comedian, and does live gigs.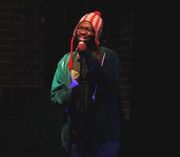 Ad blocker interference detected!
Wikia is a free-to-use site that makes money from advertising. We have a modified experience for viewers using ad blockers

Wikia is not accessible if you've made further modifications. Remove the custom ad blocker rule(s) and the page will load as expected.