Piconjo
Talk

2
581pages on
this wiki
Piconjo

Piconjo, the "god of teh pr0tal
Real Name:
unknown
Birthdate:
unknown
Profile:
[1]
Alts:
no known alts
Aura:
Blank Slate
Level:
Whistle:
Normal
Blam/Protect Rank:
Civilian
Flash:
Piconjo Besitzen Sie DVD
Audio:

Piconjo, the "god of teh pr0tal", is well known user and character on Newgrounds. Piconjo has submitted well over 200 flash animations, many of a low quality, as well as seven audio submissions. Most notable is the "Wadolf Saga," in which he depicts Newgrounds as a fascist nation ruled by a Hitleresque Wade Fulp. Piconjo is known as something of a rebel, and has often criticized Newgrounds and other users, including LegendaryFrog, illwillpress, and David Firth. However, there are a few users, such as LiveCorpse, who have been paid tribute to in several flashes. Piconjo also seems to be a fan of Square Enix, which he makes frequent references to. He has also made references to Pixar, which he claims to work for.
Although Piconjo is a well known author, with 248 Flash submissions in his name, relatively few of his movies have won awards. He has won a total of six awards, including Daily Second Place, Underdog, Turd of the Week, and Review Crew Pick. He also has seven audio submissions, which fell into a variety of genres.
Piconjo has been mostly inactive since 2005, and has since only submitted seventeen flash movies, all of them collaborated. In PICONJO CONFESSION XI, he announced that he had a kidney disease, and might die soon. His last BBS post, on from June 6, 2005, stated that he would be getting a double kidney transplant. [2] According to one film he supposedly collaborated on, "Rest in Peace Piconjo," he died on July 12, 2005, after a failed kidney operation.[3]people also say that piconjo is an older version of pico
Piconjo, The Character
Edit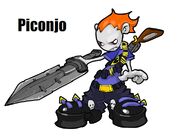 Piconjo the character vaguely resembles the iconic
Pico
, although it is jokingly suggested that Pico is a ripoff of
Piconjo
. He is tall and pale skinned, but has red hair and has simple white eyes like Pico. He is also known for wearing purple, carrying a large sword and having an extremely large penis. In several animations, he is drawn in the style of Final Fantasy protagonists, with fairly realistic features and spiky hair. The character also appears in many flashes not produced by Piconjo, most notably
Newgrounds Rumble
, in which he is referred to as the "Dark side of Newgrounds." However, he has also been revealed to have a softer side, as revealed in movies such as "Piconjo's Sorrow." Piconjo also seems to have a connection to
LiveCorpse
, deceased user on Newgrounds. In
Piconjo Besitzen Sie DVD
, a wounded Piconjo is visited by a dead Livecorpse and is told that he still has work to do. In another flash, Livecorpse Tribute, Piconjo takes the role of LiveCorpse in his last few hours of life.
Visit the Piconjo Collection Here