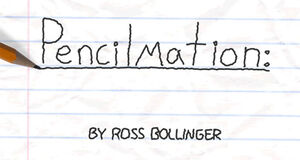 Pencilmation is a Flash animation series, created by Ross Bollinger. The series is the adventures of Ross Bollinger's doodles, and are usually humorous.
| Pencilmation #1 The first episode of Pencilmation, about the pencil drawing a stick figure, and the stick figure's adventures with what the pencil draws him. Sometimes it's what he wants, but sometimes it's a sign of torture.
Pencilmation #2 The stick figure steals the pencil, but he's going to have to face something you can never erase...a pen.
Pencillmation #3
Pencilmation #4
Pencilmation #5
Pencilmation #6
Pencilmation #?
Pencilmation #7
Pencilmation #8
Pencilmation #9
Pencilmation #10
Pencilmation 11
Pencilmation #12
Pencilmation 14
Pencilmation #14
Pencilmation #15
Pencilmation: Hank
Hank Draws A Girlfriend
Note: There are two Pencilmation 14's and no number 13 because the creator submitted them that way
ReceptionEdit
The first pencilmation was welly accepted while it did receive some criticism for being "a random flash with drawings of an unnamed character" although by the time number two was submitted people recognized it more as a series and not as a random pilot of a never to be continued series.
In the future of Pencilmation Ross Bollinger says he wants to make a 15 minute episode of Hank being very serious and entertaining and well generated quality of animation to end the series and claims he wants it to go out "with a bang" to not be easily forgotten.
Ad blocker interference detected!
Wikia is a free-to-use site that makes money from advertising. We have a modified experience for viewers using ad blockers

Wikia is not accessible if you've made further modifications. Remove the custom ad blocker rule(s) and the page will load as expected.