ParagonX9


Real Name:
Jermaine Blume
Birthdate:
April 30th, 1986
Profile:
http://paragonx9.newgrounds.com/
Alts:
apxn
Aura:
Musician
Level:
Level 30
Whistle:
Normal
Blam/Protect Rank:
Pvt. First Class
Flash:
[1]
Audio:
[2]
ParagonX9 is one of the most popular music artists ever to hit the Newgrounds Audio Portal. As of March 2011, she has 58 songs in the Portal, all of them diamond tracks. Most of her songs are video game remixes. Those are very popular in video game parody flashes. Her most popular song is Chaoz Fantasy, and has been used in over 125 flash submissions. She has had significantly less activity since 2004, and has only submitted eleven songs over the past five years.
Popular Tracks in Submissions
This is a list of the some of the most noteworthy music, used in a large number of submissions on Newgrounds:
Chaoz Fantasy: Used in the very popular iPhone game The Impossible Game.
Chaoz Japan: Used in the award-winning game Castle Crashers.
Blue Sky: Popular track used in mostly flash games as it is generally useful as generic videogame music.
Chaoz Airflow: Heard in frantic puzzle games, an important member of the Chaoz family of tracks.
Chaoz Devotion: A "Battle Style" Drums n' Bass track, used in over 100 entries
Danger Ahead (1-3): Fast paced drum and bass. Popular in fight games and video game parodies.
Defcon Zero: 16-Bit style Video Game Loop that is heard in over seventy submissions.
Final Fight: Battle music, according to ParagonX9.
The Matrix DNB: Used in 77 submissions, it is a remix of music from the Matrix soundtrack.
ParagonX9's Flash
ParagonX9 has submitted three Flash animations and won four awards, the highest being Weekly 4th. The three form a series of Sonic stories, which are Sprite movies, with mostly Paragon's music in them.
ParagonX9 Personal Life etc.
ParagonX9 posts quite a bit on the BBS, as well as a few News posts- almost always about music, mostly hers. The Audio Portal contains a few people who complain about her popularity or exposure and ParagonX9 regularly defends herself. She publishes lists of popular tracks and talks about technical music matters.
Gender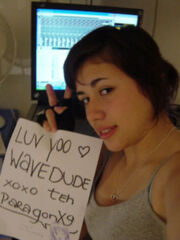 ParagonX9's gender is female.
(i don't know when she revealed it, someone fill this in)
Links
Ad blocker interference detected!
Wikia is a free-to-use site that makes money from advertising. We have a modified experience for viewers using ad blockers

Wikia is not accessible if you've made further modifications. Remove the custom ad blocker rule(s) and the page will load as expected.