NegativeONE
Talk

0
586pages on
this wiki
NegativeONE


Real Name:
{{{realname}}}
Birthdate:
{{{birthdate}}}
Profile:
NegativeONE
Alts:
{{{alts}}}
Aura:
Game Developer
Level:
Level 49
Whistle:
Bronze
Blam/Protect Rank:
Colonel
Flash:
{{{flash}}}
Audio:
{{{audio}}}

NegativeONE is a Forum Moderator and accomplished programmer. He is particularly notable for his collaborations with other Newgrounds members, which have resulted in games such as Johnny Rocketfingers 2, Newgrounds Rumble, and Journeys of Reemus: Ch 3. He has also won twelve awards, at least one for everything he's ever submitted.
Games-Author
Edit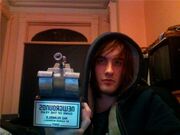 He has a grand total of eight games submitted, six of which were collaborative efforts. His awards include a Tank award in 2007 for Newgrounds Rumble; five Daily Features; three Weekly Users' Choice Awards; and a Review Crew Pick.
NegativeONE is also a regular user on Newgrounds, with a high level, over 17,000 blam and protect points, and over 7,000 BBS posts.
Posts/Personal
Edit
NegativeONE's News posts usually revolve around Newgrounds or related subjects. He talks of his Mod meets, Comic Con, his games etc.
External Links
Edit