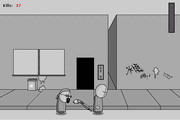 Madness Interactive
is a Flash game submitted by
max-abernethy
and
Krinkels
on August 26, 2003. It is roughly based on [Madness Redeemer], and features
Hank J. Wimbleton
on a journey to get revenge on the
Sheriff
for stealing his pie. The game consists of almost twenty levels, which lead up to a showdown with
Jesus Christ
. The game also features a full tutorial, experimental mode, and four challenges. The game also allows the player to customize their character.
Gameplay
Edit
The tutorial shows all the controls and gives you an oportunity to test them out. The game drops the play straight into "a world gone mad" where people start attacking Hank immediately. Hank arrives without a weapon and must fight and kill until he can get one. As more enemies arrive he needs to pick up other weapons pretty soon.
Reception
Edit
Madness Interactive has been viewed over 13.2 million times as of May 2012, making it one of Newgrounds's most viewed submissions and by far the most popular Madness-related submission on the site. The game won the Daily Feature and Weekly Third Awards when it came out, and has a score of 4.2/5 and average review of 9.4/10.
Ad blocker interference detected!
Wikia is a free-to-use site that makes money from advertising. We have a modified experience for viewers using ad blockers

Wikia is not accessible if you've made further modifications. Remove the custom ad blocker rule(s) and the page will load as expected.