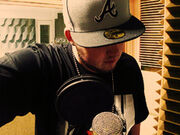 KillBillVolume2 (better known as Kill Bill) is a Hip-Hop producer and recording artist from South Carolina. Kill Bill has submitted many of his productions and full songs to the Newgrounds Audio Portal since he first signed up to Newgrounds in July of 2007. Kill Bill has participated in many Hip-Hop related competitions and battles throughout his duration on Newgrounds. He is well known and respected throughout the majority of the "Hip-Hop NG" community for his heavy influence and "Big Brother" attitude towards the newer Hip-Hop Newgrounds members.
Audio Submissions
Edit
Kill Bill has over 150 submissions in the Audio Portal, most of which are in the Hip-Hop genre, with a few comedic voice acting skits and "Alternative" music thrown in the mix.
Audio Work
Edit
Kill Bill has over 1,300 Audio Reviews as of August, 2011. The majority of his news posts contain news about his tracks and his personal life and links to free downloads of his music. Kill Bill can occasionally be found posting in the Audio Forums providing help and insight to newer users.
External Links
Edit
Ad blocker interference detected!
Wikia is a free-to-use site that makes money from advertising. We have a modified experience for viewers using ad blockers

Wikia is not accessible if you've made further modifications. Remove the custom ad blocker rule(s) and the page will load as expected.