JAZZA is the user name of Josiah Brooks, who lives in Australia. In 2003, he began animating, and after discovering the website via a request from the Star Syndicate to vote on their work, has since become one of the most notable authors on Newgrounds. His work, consisting of dozens of Flash submissions on Newgrounds, has covered a wide variety of genres, including Drama, such as The Composer, Fantasy Action, like the Paladin series[1], Comedy, including the Larry series, and several games, including the Kill Kar and several games based on his various series. He also has 40 audio submissions, most of which are rated between 3/5 and 4/5. Additionally, one of his art submissions won a minor award.[2]
Personal Life
Edit
JAZZA was once a Latter-day Saint, and worked in the missionary service for nine months, before he had to stop in order to have an operation on his knee. Since then, he has announced that he is an atheist.[3] He is also a dedicated musician, and maintains a weekly webcomic based on the Larry series.[4]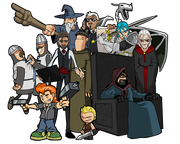 Because of the sheer number of genres JAZZA has dabbled in, his style changes dramatically between different works. However, his movies and games since 2005 tend to portray humans realistically. Additionally, many of his works, such as Paladin, Larry, and Brotherhood of Battle, are influenced by traditional European fantasy. JAZZA has stated that he views games as story-telling experiences, though not all of his games fall into that category.
Reception
Edit
JAZZA has won a total of over 62 awards, including 23 Daily Features, eight Weekly Users' Choice Awards and four Review Crew Picks. As of February May 2011, his Flash submissions have received a total of over 15.4 million views. His music tends to score between 3/5 and 4/5.
Ad blocker interference detected!
Wikia is a free-to-use site that makes money from advertising. We have a modified experience for viewers using ad blockers

Wikia is not accessible if you've made further modifications. Remove the custom ad blocker rule(s) and the page will load as expected.