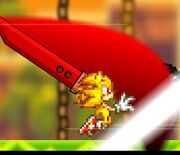 Final Fantasy Sonic X is a flash game series created by the Newgrounds user
BlackDevilX
, which had six episodes from 2004-2008.
The series bases itself around a plot that involves a mash-up of characters and elements from the Sonic the Hedgehog, Legend of Zelda, Mega Man, and Final Fantasy universes. The series has been praised for its slick visuals, fun Final Fantasy-style turn-based battles, sense of humor, and voice acting for episode 6. Starting at episode 5, each new episode has it's own opening. It currently has 6 episodes, which have steadily become more game-like, as BlackDevilX's knowledge of action script increased.
Reception
Edit
Every entry in the series has had at least one award, usually a minor daily award. Episode 5, however, won the Daily Feature and Weekly Fourth awards, while episode and 6 had a Review Crew Pick. In total, the series has had nine awards. The series appears to be quite famous on YouTube as well. It was famous for being one of Newgrounds interactive flash series along with Chrono Trigger Unglued. Along with Sonic: Nazo Unleashed and Sonic Short it is one of the most high received sonic series on Newgrounds.the 7th is in progress but only the trailer is out.