Dan Paladin, originally known as Synj, is an artist who worked with Tom Fulp to make several games, including Sack Smash 2001, Chainsaw the Children , Dad n' Me, and most notably, Alien Hominid. Tom did the programming in these games. He is listed as an "affiliate" user on the Newgrounds BBS
The Behemoth
Edit
Dan and Tom also formed The Behemoth, a production company that produced the console version of Alien Hominid and Castle Crashers. He did the artwork for these games in Flash. Since then, he has only made minimal contributions to Newgrounds, and since 2005, has only collaborated on one flash: Queers of War. Dan Paladin is best known for his signature cartoony art style. Although he also used three-dimensional graphics for console games such as Soldier of Fortune 2, his work in Flash and for The Behemoth are done in a similar loose 2D style.
From 2001 to 2005, Dan Paladin was an active contributor on Newgrounds. He made twenty games and movies during this period, all but two of which won awards. These submissions were often collaborations, either with Tom Fulp or another artist. Usually, he would make the art while the other person would take care of the programming. Since 2005 he has only collaborated on one flash: Queers of War. In total, Dan Paladin has won 35 awards, including 14 Daily Features, four Weekly Users' Choice Awards, and a Review Crew Pick.
External Links
Edit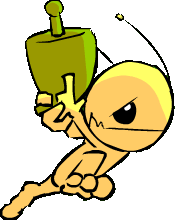 Ad blocker interference detected!
Wikia is a free-to-use site that makes money from advertising. We have a modified experience for viewers using ad blockers

Wikia is not accessible if you've made further modifications. Remove the custom ad blocker rule(s) and the page will load as expected.