Barney Bunch
Talk

1
579pages on
this wiki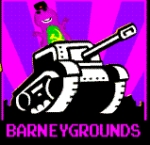 The Barney Bunch is a controversial Flash group, who regularly submitted content to Newgrounds as well as several other websites. The group was formed on August 25, 2005 and reformed on youtube and YTMND in 2006.
Most flash by the Barney Bunch is animated in a simple style, and usually consists of a still picture, and explicit text-to-speech audio. These files are most commonly about Barney the Dinosaur, or Drew Pickles, a character on the children's television program, the Rugrats, although many other children's television characters are used, as well as Ronald McDonald (Referred to as "Penis Clown") and a strange cartoon clown with his penis exposed referred to as "Dick the Clown". They are often portrayed as homosexuals . Another common Barney Bunch style is having dancing tweened characters with exposed penises with flashing backgrounds and random sounds and music, flashes in this style are usually for file-swaps.
Newgrounds Response
Edit

Most of the flash by the Barney Bunch is met with displeasure, and several Newgrounds members have, in response, created "Anti-Barney Bunch" flash. Most submissions by the Barney Bunch are considered spam, and the term "Barney" has been removed from Newgrounds search engine. However this was done because HiT Entertainment, the owners of Barney and Friends, threatened to file a lawsuit against Newgrounds, not only because of the Barney Bunch's activity.
Current Activity
Edit
In 2006, the group seemed to disband, and several of the original members of the group were blocked from Newgrounds. On March 7, 2007, a new flash was submitted to the portal, called "BarneyBunch Revival", as well as a web address for the Barney Bunch website. Since then, several more Barney Bunch style flashes have appeared on Newgrounds, and it seems that the Barney Bunch has returned. Soon after their revival, the group made a successful move to YouTube, where many of their videos from members such as JakeLL (Gay Carl Winslow) and L have had in excess of 500 views.
Meanwhile, on Newgrounds, several BB styled flashes appeared on Clock Day 2007, some of them only to be file swapped into porn videos and random nonsense. It has yet to be confirmed that the BB on Newgrounds was revived again.
Barney Bunch claimed to have returned in June 2009, since then they have created a new forum and have spammed the Newgrounds Portal with various file-swaps in the traditional Barney Bunch style.
In 2010 the barney bunch was returned on youtube posting "Drew Pickles goes to X" videos that in then Drew rapes every one there. They were made by newer members and sometimes they add new members to rape people but they don't remove any of the old members are in the Barney Bunch anymore and in 2012 the last Drew Pickles made by the last member. Today people make new Drew Pickles goes to X by fans of the old barney bunch.
In 2014 The Barney Bunch have started doing Reddit mods and posting pictures of Drew Pickies and other "gayness" on to subreddits
External Links
Edit