Abuse is a classic 2D game released originally for MS-DOS.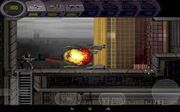 This is a port of this classic game to Android has following features

- Full screen game play with option for graphics smoothing
- On screen game controls
- Background music and stereo positional sound effects (requires headset or stereo speakers)
- Support for Wireless Game Controllers (connect before game launch)
- Unlock-able GOD mode (take a survey in the app)
Ad blocker interference detected!
Wikia is a free-to-use site that makes money from advertising. We have a modified experience for viewers using ad blockers

Wikia is not accessible if you've made further modifications. Remove the custom ad blocker rule(s) and the page will load as expected.